Many Herefordians will know Newton Court as the home of Newton Court Cider.  Newton Court is now also the site of a brand new Visitor Centre in which you'll find a 95 seater restaurant and cafe, farm shop shelves, viewing windows for our bottling and pressing, a licensed bar and a place to meet for cidery tours and tastings.  The spacious, welcoming, contemporary restaurant and coffee shop offers a selection of breakfasts, brunches, lunches, snacks and cakes, celebrating Herefordshire produce overlooking the orchards based on our organic farm.  Our Farm Shop shelves offer a selection of Herefordshire treats and ingredients – think Two Farmers crisps and local honey.
Bookings for eating in are welcome, but we can generally cater for walk-ins.  Please send us an email to hello@newtoncourtcider.com if you are booking 24 hours in advance, or call 01568 611721 to make a booking or check availability.
Our Menu is here
Newton Court is just off the A49, on the left hand side as you head north on the "old road" B 4361 towards Leominster.  We've lots of parking, underfloor heating for this colder time of year, comfy seating and a menu for all budgets.  We'd love to welcome you to Newton Court.  Please note the main approach to the Newton Court Visitor Centre is about 20 metres north of Newton Lane and should only be used by visitors in smaller vehicles.  Take the newly tarmac-ed approach to park in front of the green panel built building.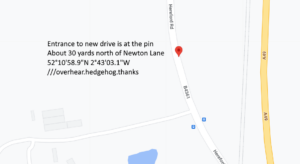 Our new drive doesn't feature yet on Google Maps and the like.  The pin on the map below shows where the drive is.  You can use co-ordinates 52°10'58.9″N 2°43'03.1″W or What 3 Words ///overhear.hedgehog.thanks to help you reach the right point to head up the drive.  Look out too for the wonderful dandelion on the hill, a sculpture by Jenny Pickford.
You can reach us by 492 bus with bus times on the link.
Our opening hours are:
Monday to Saturday 9.00-4.30 – full menu: breakfasts, brunches, lunches, drinks and cakes.  Monday to Thursday hot food service starts at 9.30.
Breakfast / brunch is served all day.  Lunch is available 12-3.  Drinks and cakes until close.
Sunday 10.00-1.00 – breakfast / brunch, drinks and cakes.
We will be open these hours for each of the three May Bank Holiday weekends apart from Monday 8th May when we will be closed all day.
We strongly recommend that you check our opening hours through social media or referring back to this page before you make a trip out; as we gradually expand and improve our service, we may tweak the times we are open for food, drinks and as a farm shop.
Well behaved dog owners are welcome.
Deliveries, coaches and Click and Collect drivers should head up Newton Lane and take the first right to park at the rear of the Newton Court Visitor Centre.
If you'd like to discover more about our wonderful county of Herefordshire, do follow the link to Eat Sleep Live Herefordshire to explore what's on offer.