Made from a blend of cider varieties including Yarlington Mill, Dabinett and Harry Masters, Gasping Goose is a well-balanced, golden, medium-bodied Herefordshire cider. The "Goose" is crafted from organic apples grown to Soil Association standards in Newton Court Farm's orchards, resulting in an easy-to-drink cider, perfect for any season.  If ever there was a taste of Herefordshire, Gasping Goose 5.8% (4.8% in keg) steps up to the mark.
We enjoy Gasping Goose alongside a selection of strong, aged cheeses.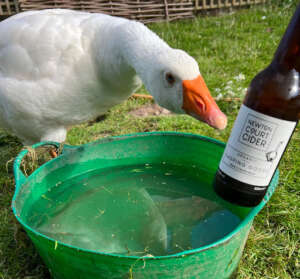 Still or sparkling?  Some people enjoy the smoothness of a still cider and others the "bite" of sparkle.  Our 330ml, 500ml, 750ml bottles and our keg cider are sparkling.  For still cider connoisseurs, 2L glass and plastic flagons and all sizes of bag in box / polypin are still.
Available from our online shop